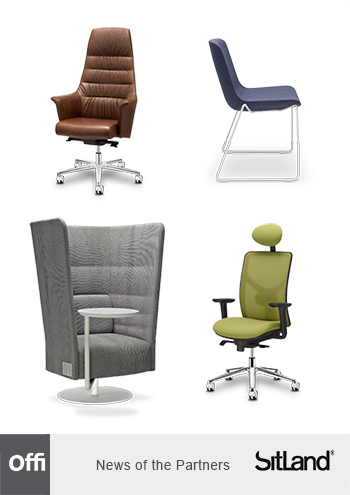 06/11/2017 Brand new trilogy of Sitland's Collections
Sitland's commitment to beauty and manufacturing excellence is encompassed in three volumes dedicated to the world of planning and architecture: three elegant catalogues and one practical box illustrating the best materials and finishings. 

Sitland has long collaborated in prestigious projects of international breadth, showcasing both catalogue and custom products. It also has extensive know-how in the contract sector, and for the first time it brings you a dedicated contract catalogue. The aesthetic and qualitative value of Sitland's products and its great flexibility are now distinctive signs of the company expressed in the three new catalogues centred on the needs of contemporary spaces.
For more information press here.

30/12/2018 Interior lighting Foundry
04/12/2018 AT office chair - free-2-move
15/11/2018 Office Workstation desk LAY
29/10/2018 New office furniture Funny Sat
24/10/2018 Smart interior lighting Fantasticks
15/10/2018 Technology is Changing Interior Design
25/09/2018 Versatile and classy office furniture
12/09/2018 Matrioshka By Stone Designs
07/09/2018 New fabrics for Sitland's collections
24/08/2018 The initial collections of EOQ lightings
21/08/2018 Conference and visitor chair Metric
18/07/2018 A Colorful sea anemone
30/06/2018 A seminal collector's item PrintStool
27/06/2018 Ergonomics benefits health and safety
11/06/2018 The path to 100% sustainability
28/05/2018 International contemporary furniture fair
19/05/2018 Clerkenwell Design Week
09/05/2018 Integrative design for office chairs
26/04/2018 MIXC World Shenzhen shopping center
09/04/2018 The new collection of chairs PAX
31/03/2018 Height adjustable systems Crono
29/03/2018 A space where innovative technology
19/03/2018 Comfortable office chair Motus
18/02/2018 Bene Spectrum: Colour Themes
08/02/2018 The round stool Rondo
04/02/2018 Kepler - new generation lights
21/01/2018 Office in the fast lane
07/01/2018 What good design of the chair?
30/12/2017 A stackable stool Patch
17/12/2017 Furnish flexibly with Stack
13/12/2017 Gensler redesigns showroom in NYC
23/11/2017 Akasaka intercity conference center
16/11/2017 ICON -a contemporary, fluid collection
06/11/2017 Brand new trilogy of Sitland's Collections
05/10/2017 An understated look
14/09/2017 Fabric makes a chair
25/08/2017 The unique attributes of MnM, RD2SQ 
21/08/2017 The new collection of chairs Plektrum
08/08/2017 An immersive experience
29/07/2017 Furniture collection Atreo
19/07/2017 Furniture collection TOKI
11/07/2017 Furniture collection "Nénuphares"
30/06/2017 Vienna Biennale 2017
18/05/2017 A luxurious atmosphere
20/04/2017 The new collection of CHAIRS MR T
12/04/2017 CONFAIR folding table
27/03/2017 A lounge chair DUNES
22/03/2017 The most exciting innovations at the fair
17/03/2017 Tables of minimalism style and their tops
08/03/2017 Reception chairs MENDI
23/02/2017 9 new designs of the furniture
20/02/2017 From the conception to the realization
15/02/2017 Prism-shaped design
06/02/2017 Color of the year 2017
23/01/2017 New designs from MUUTO
30/12/2016 Three-dimensional Inspiration
29/12/2016 Innovative Office Design
07/12/2016 Office furniture "TOKI"
18/11/2016 Furniture collection ZEFIRO
09/11/2016 Conference-visitor chair OCCO
27/10/2016 Furniture collection "PLAY YET"
13/10/2016 Design meets artists
06/10/2016 Autumn launch for five products
09/09/2016 The innovations at Orgatec 2016
25/08/2016 ON and IN chairs for 24-hour use
17/08/2016 A fresh and contemporary design
28/07/2016 Integrated desking systems 2016
18/07/2016 Timetable Smart conference table
13/07/2016 IN task chair receives FIRA Award
04/07/2016 Table, floor and wall lamp E-one
04/07/2016 New chair design Giulia POP
20/06/2016 Multi-purpose chair Chassis
27/05/2016 Multi-purpose stool UPis1
24/05/2016 Lounge Armchairs Wall-Street
12/05/2016 The World's Property Market
06/05/2016 New armchair POSITIVA
27/04/2016 Bureaux Expo 2016 Paris
13/04/2016 The HOSPITALITY gallery in Milan
11/04/2016 Office of the Future
04/04/2016 Inspirational office
25/03/2016 Furniture collection ABACO
17/03/2016 Innovation in the interior-LEAN in
08/03/2016 New chair design REMO
03/03/2016 Minimalism-the keys to success
23/02/2016 The innovative table USE ME
19/02/2016 New collection "Les marches"
15/02/2016 Stockholm Furniture Fair 2016
08/02/2016 Ceno chair with higher backrest
01/02/2016 New table formats for Graph table
28/01/2016 Office furniture in a new space
13/01/2016 Furniture exhibition "Maison&Objet"
30/12/2015 Design Fair 2015 in the Guangzhou
23/12/2015 Innovation is on the agenda: Festo
14/12/2015 Visual references to business fields
24/11/2015 The armchair UNI-ka
13/11/2015 Loft offices with IN, Stand-up, Stitz
04/11/2015 Office chairs WOW for conferences
26/10/2015 KINETICis5 in the J. Bond movie
22/10/2015 Executive collection NEW LOOP
14/10/2015 New CELL seating collection
08/10/2015 Office chair To-Kyo
28/09/2015 Expo center in Olympia London
23/09/2015 New partnership with Ophelis
15/09/2015 Six design innovations for autumn
07/09/2015 New ergonomic office chair IN
12/08/2015 Create a dynamic office
05/08/2015 First-Look Event- New York
17/07/2015 Showroom opening at NeoCon 2015
30/06/2015 "Gold Award" at NeoCon 2015
28/06/2015 Graph conference project in Japan
16/06/2015 The environmental labels
10/06/2015 Clerkenwell Design Week 2015
28/05/2015 Shaping Communication
22/05/2015 Special designreport on IN
20/05/2015 "Good design" awards 2015
06/05/2015 Bureaux Expo Paris 2015
08/04/2015 Multi-purpose chair Chassis
31/03/2015 Office systems furniture "Ypsilon"
30/03/2015 Tangram and Buddy in the London
23/03/2015 Thinking like a designer
17/03/2015 Stockholm Design Week
24/02/2015 The leading Australian designer
17/02/2015 Elements of architecture
03/02/2015 The colors of "Ar.tu"
28/01/2015 Stockholm Furniture & Light Fair
15/01/2015 Stockholm Furniture Fair 2015
08/01/2015 Premium prize for design quality
15/12/2014 Focus Silver for KINETICis5
09/12/2014 New office chair VERONA
21/11/2014 Dynamic office–the essentials
19/11/2014 Stand-up-Stylish and fun
13/11/2014 Product trends at Orgatec 2014
23/10/2014 The color in the office
17/10/2014 New environmental Statement
06/10/2014 The ideas laboratory
02/10/2014 SitLand at Orgatec 2014
30/09/2014 Co-Creation–Create innovation
18/09/2014 Focusing on the essentials
27/08/2014 German Design Award 2015
29/07/2014 The world in seven days
07/07/2014 Furniture for tomorrow's elite
30/06/2014 Office chairs set TARGET
26/06/2014 Workplace accessories
10/06/2014 The best of the best
19/05/2014 Chapter in the ON success story
13/05/2014 All eyes on design:Milan 2014
06/05/2014 German design history in Paris
22/04/2014 Designing by Nani Marquina
04/04/2014 Workplace Accessoires
31/03/2014 Innovation guaranteed
26/03/2014 Harmony, simplicity in the office
12/03/2014 NEOS seating in Berlin
10/02/2014 From technology to the emotions
08/01/2014 Stockholm Furniture Fair 2014
20/12/2013 A Hot Spot in the Office
14/12/2013 World Heritage Site Day
06/12/2013 Dynamic seating in Singapore
06/11/2013 Searching for a new world of work
14/10/2013 Wi-MAX gets higher, takes color
09/10/2013 A good grounding in design
30/09/2013 Beating the Drum for Teamwork
25/09/2013 A touch of freshness for autumn
18/09/2013 A historic business 
12/09/2013 New family of BONE chairs
30/08/2013 New office chair STITZ
28/08/2013 the London Design festival
26/08/2013 Fresh, elegant the range KYOS
21/08/2013 The lounge-furniture range
18/08/2013 The creative potential
11/08/2013 More than just a seat
29/07/2013 Schellmann Furniture
26/07/2013 Tradition and innovation
19/07/2013 New offerings for design solutions
17/07/2013 High-quality and versatile desk
12/07/2013 Coworking Russian style
09/05/2013 Testing of the ON Chair
03/05/2013 General Health Congress
23/04/2013 BAY Chair of the New Type
16/04/2013 Place of Social Communication
06/04/2013 German Design Standards
27/03/2013 The new chair BENCH
24/02/2013 The new spring range
11/02/2013 Stockholm Furniture Fair
28/01/2013 Additions to the Aline family
18/01/2013 Milestone in conference seating
16/01/2013 Efficient and Versatile
30/11/2012 Creative spirit from another gen.
19/11/2012 Colorful family of JAY chairs
12/11/2012 Right setting of the chair ON
06/11/2012 New products at Cologne fair
01/11/2012 New products for smart work
31/10/2012 Additions to the Aline range
24/10/2012 Looking ahead to Orgatec
17/09/2012 A lively mix of contrasts
13/09/2012 Transparency and openness
04/09/2012 Glamox A20 novelties!
20/07/2012 Changes in working environment
26/06/2012 Offer for the responsible ones
19/06/2012 New collection of products WING
15/06/2012 Gender aspects at the office?
15/06/2012 Interactive table from the future
06/06/2012 Colorful spectacle in Milan!