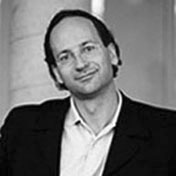 Kai Stania
The basis of success of the designer from Vienna Kai Stania is the symbiosis of esthetics and functionality.

When he was very young, he received many national and international awards for mastership and artistic skills – i.e. Boerse prize for design, IF award for the product's design, two Red Dot awards, and he was elected among top ten Austrian furniture designers.

Kai Stania was born in Salzburg in 1965, completed the studies of architecture at Vienna Technical University in 1990, and studies product design in the mastership class of Ron Arad in Vienna University of Applied Arts.

Since 1996 K. Stania has been contributing significantly to the activity of the Austrian company BENE through participation in designing and development of many serial products. Besides, he has designed numerous products for other manufacturers: Wittmann, Jean-Louis Ferrer, Cerutti, Remus and Lanvin.

While working as an architect and designer, he is also reading lectures in Vienna Technical University, Institute of Engineering and Design.


Products: AL-GROUP
Manufacturers: Bene