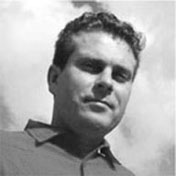 Nauris Kalinauskas
Nauris Kalinauskas (born in 1972) is a designer, who started his career in advertising area and is already well-known not only in Lithuania, but also in the world. The young man, who studied architecture and graduated from Vilnius Academy of Art in 1996, found this area good for earnings but not for self-expression. Thus soon Nauris turned towards designing of furniture and spent lots of time and endeavors for searches for new technologies and various experiments. In 2000 he established his design studio Contraforma and is still managing it.

The architect's profession and experience in the area of graphic design had big influence on the artistic formation of the designer. Nauris is enchanted by geometry, simplicity and beauty of its forms. The simplicity of material and granting a form to it with the help of technologies induce creativity and at the same time provides possibility to preserve the pure forms and shape of the item. "When you disassociate from daily perception of environment and look to the thing with different attitude, a magic feeling of creativity and desire to materialize the ideas appear", says Nauris.

The designer's success and international recognition were probably determined by his philosophy, which key item is an idea. The designer's works have received numerous awards, the most significant among which is the Red Dot award for the series of settees LOGO.


Products: Y_system / LOGO
Manufacturers: Gurda